Tim Butcher talks to Castleford coach Daryl Powell about the Tigers' prospects for the 2014 season…
If Castleford make the play-offs in 2014, it could be argued that the Tigers' progression began in May of last season, when former Great Britain centre Daryl Powell made the switch from neighbours Featherstone to coach his local Super League side.
A side that had won only three games out of fifteen at that point broke even in the rest of the season, with six victories and a draw from thirteen matches under Powell's guidance.
The coach now has the chance to mould the Tigers in the off-season and he is quietly satisfied with the results so far.
"The attitude is fantastic," he says.
"It's massively challenging, both from a physical and mental point of view. It's a tough period, but they have been great.
"We've changed a lot of things in terms of the structure and the calls. We've got few games to have a look at, but I am really pleased with the way it is progressing.
"One of our first priorities was to make sure the attitude was right."
Part of that process was a pre-season camp with the Royal Marines in Devon. Says Powell: "We are in a place where we need to work hard and change our mindset, so there was no sunshine break. Our mentality has to be tough and strong, and we had a great week."
The big change in the Tigers next season is obvious to all, with the mercurial talents of Rangi Chase that had thrilled the Tigers fans over the last five seasons now gone to Salford.
"Rangi is impossible to replace like for like, so there is no point even trying," says Powell.
"We'll miss that ability to open a game up when nobody else can, but we might also gain on other ways in gaining a bit of structure. That's not a criticism of Rangi, because he bought into the structure last year. He's been a wonderful player for Castleford and we wish him all the best, except when he is playing against us. We'll be after him, he knows that.
"But I expect us to be better team this year, with or without Rangi."
The 30-30 Boxing Day draw with Halifax came too early to draw any conclusions and three further warm-ups, with York on 19 January, Featherstone on 26 January and Bradford on 2 February, are planned. And, as chance would have it, Bradford are the Tigers' round-one opponents two weeks later.
Powell has made eight new signings to replace Chase, Jordan Thompson and Jonathan Walker, so there's much more strength in depth in 2014.
Making a return is London stand-off or fullback Luke Dorn
"Luke is a massively experienced player and he got a bit of an affinity for the club from when he was here before," says Powell.
"From everything I have seen of him to date, his leadership skills are exceptional. His knowledge and love for the game is deep. He is going to add a lot to the squad and he is as fit as can be. He really looks after himself. His pass lines and his play lines are exceptional.
"Initially he'll be in the halves, but one of the beauties of the squad we have got this year is that nobody is safe.
"If you are not up to your standard then somebody else will get you.
"Liam Finn came out of left field. He got released and I got a sniff of it and jumped in straight away and gave him the opportunity. We've got a couple of high-quality hookers at the club in Daryl Clark and Adam Milner, but obviously if one of them gets injured we hadn't got anybody who could just jump straight in there. But Liam Finn has been the best half in the Championship for a few years now. I think he can do a job in Super League and he is confident he can too. It's all about improving himself and this is an opportunity for him.
"Marc Sneyd (on a season-long loan from Salford with no recall) is a good player, a left-footed kicker, which is always valuable in a team because it gives you the kicking option down the left side. He's an instinctive player, smart and clever with the ball.
"I've known Ashley Gibson since his time at Leeds. He's a good kid and has been a real solid player for a number of years now. He gives us depth in the centres with Webster, Shenton, and Channing.
"I also know Frankie Mariano from my time at Featherstone. At the back end of the last two seasons he has been exceptional at Wakefield. The key for us is to make sure he is exceptional at the start. At 112 kilos he is a huge backrower. He's got huge potential and he needs to start realising it now. I'm sure he will. He is working really hard and I am confident he will give us a real threat on the edges.
"I'm massively impressed with Andy Lynch and the way he has gone about his business. He is the ultimate professional. He's had an impact on all the other props at the club. And Scott Wheeldon is game. He takes the hard carries and has a bit of nous about him; he sees things like a halfback sometimes."
The other incomer is former NRL star Brett Seymour, who was destined for a brilliant career at Brisbane but was a victim off-field problems that got even worse after a year at Hull FC. The Tigers have offered him the chance to get back on the rails.
With several youngsters set to emerge as well, Castleford have a much more robust look in Super League XIX.
Concludes Powell: "We'll be challenged a bit and we'll have to front up. But we'll be good, the culture is really strong."
CLOSE SEASON INJURY REPORT
Jake Webster (knee surgery) – will miss first month of season.
Adam Milner, Grant Millington and Oliver Holmes (all ankle surgery) – ready for start of season
Ashley Gibson (knee) and Justin Carney (shoulder) – both back in full training
Ryan Boyle (knee reconstruction) – April at the earliest.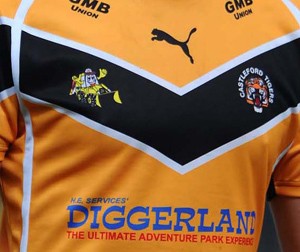 NEW FACES
>
Luke Dorn
Back after spending the 2008 season at the Tigers, a fairly productive season that saw him score 19 tries in 26 games. He'll add pace and huge experience either at stand-off or at fullback.
Liam Finn
When Featherstone surprisingly released him earlier this month, former coach Powell quickly snapped up the Ireland captain, who has always fancied a sustained crack at Super League, for which he seemed destined after making 20-odd appearances with Halifax as a teenager in 2002 and 2003.
Ashley Gibson
Gibson was an emerging youngster when Powell was coach at Leeds, but he never quite established himself over four first-grade seasons. He has played 81 Super League games over the last four seasons at Salford, netting 41 tries, not a bad strike rate. He'll certainly increase competition in the centres.
Andy Lynch
Lynch returns to where it all started for him in 1999. With 366 Super League games under his belt, the 34-year-old will add a mountain of experience and knowhow to some promising young forwards at the Tigers.
Frankie Mariano
Wakefield would have liked to keep the former Hull KR junior, who is one of the best strike second-rowers in the game when he is on song. Inconsistency has been his downfall over the last three seasons, but if Powell can get the best out of him every week, watch this space.
Brett Seymour
Seymour was close to giving the game up earlier this year after suffering from depression, which forced him to quit Hull. An outstanding junior halfback who broke into Brisbane Broncos' first grade as a teenager, it would be good to see him cast off his off-field problems.
Marc Sneyd
Sneyd joins the Tigers on a year-long loan from Salford. Last season was his first consistent go at Super League and he impressed in his 26 games at stand-off. The Tigers have got a very talented player.
Scott Wheeldon
Prop Wheeldon has been a quiet achiever but at the age of 27 has amassed 165 first grade games at Hull FC, Hull KR and latterly London Broncos. He's a real workhorse up front.
Castleford Tigers Super League 2014
1  Jordan Tansey
2  Kirk Dixon
3  Michael Shenton
4  Jake Webster
5  Justin Carney
6  Luke Dorn
7  Marc Sneyd
8  Andy Lynch
9  Adam Milner
10 Craig Huby
11 Grant Millington
12 Weller Hauraki
13 Nathan Massey
14 Daryl Clark
15 Ryan Boyle
16 Oliver Holmes
17 Lee Gilmour
18 Frankie Mariano
19 Scott Wheeldon
20 Jamie Ellis
21 Ashley Gibson
22 Richard Owen
23 Michael Channing
24 James Clare
25 Dan Fleming
26 Liam Finn
27 Charlie Martin
28 Ben Reynolds
29 Brett Seymour
30 Jordan Howden
Major Shirt Sponsor: CBR Engineering
TIGERS TOP OPTA PERFORMERS IN 2013
Richard Owen    9958
Rangi Chase    9897
Nathan Massey    8692
Michael Shenton    7329
Grant Millington    7104
For full details of Castleford's 2013 season see the League Express Rugby League Yearbook 2013-2014
Ins: Luke Dorn (London Broncos – halfback), Liam Finn (Featherstone Rovers – scrum-half), Ashley Gibson (Salford Red Devils – centre), Andy Lynch (Hull FC – prop), Frankie Mariano (Wakefield Trinity Wildcats – second -row), Brett Seymour (Hull FC – scrum-half), Marc Sneyd (Salford Red Devils, loan – stand-off), Scott Wheeldon (London Broncos – prop).
Outs: Rangi Chase (Salford Red Devils), Ben Johnston (Halifax), Keith Mason (released), Jordan Thompson (Hull FC), Jonathan Walker (Hull KR).