St Helens captain Paul Wellens worked as an assistant coach for the England squad in the recent Four Nations tournament.
And, although the experience taught him many things, Wellens confirms that one thing he is sure of is that his former Saints team-mate James Graham should be among the six-player Golden Boot shortlist when it is announced in Friday's edition of Rugby League World magazine.
"I played with James a lot, and when he went to the NRL a lot of people asked me how he would do. He did exactly what I expected him to do, which is play superbly and dominate other teams' forwards. I'm not surprised by the high regard in which he is held. He is a phenomenal player.
[follow id="RLWorld" size="large" count="true" ][follow id="LeagueExpress" size="large" count="true" ]
"And he is a champion fellow. I have never met a more competitive individual. He produces the same level of performance every week, and in that sense he's a bit like James Roby. Both of them play to such a high standard that some people can take them for granted."
Wellens admits that he had hoped that Graham's current club, Canterbury Bulldogs, would win the NRL Grand Final, so that the former St Helens hero could have returned to St Helens for his first game at Langtree Park. Graham played his final game for Saints in 2011, the year before the club moved to its new stadium.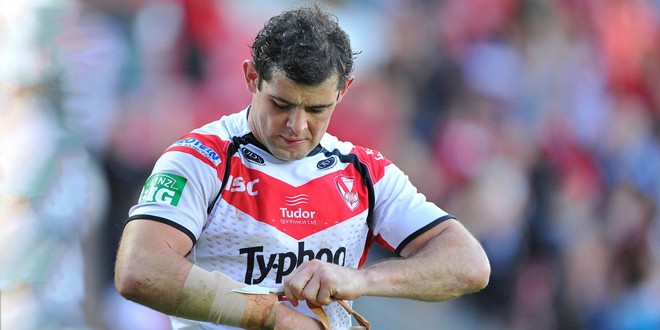 St Helens will take on NRL Grand Final winners South Sydney on Sunday February 22 (7.00pm) for the right to be crowned World Club Champions.
"South Sydney will be a huge challenge, even without Sam Burgess," admits Wellens.
"The way they go about their business is very impressive. We are going to have to front up to that aggressive, in-your-face style.
"But the Saints fans will pack Langtree Park and people will come from all over the country to see that game."
[follow id="RLWorld" size="large" count="true" ][follow id="LeagueExpress" size="large" count="true" ]
And, at the age of 34, Wellens is mulling over whether 2015 will be his final season.
"I have a job getting into the team now, but I'll turn up to pre-season and give my best," he said.
"It's more than likely to be my final season, but I won't make any definite decision until June or July. I have been treating every season as though it would be my last for quite a few years, but I haven't felt like retiring yet."