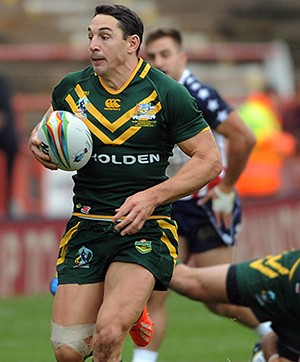 Billy Slater could be fit to face New Zealand in the World Cup final.
The Australian full-back aggravated an old knee injury against the USA and sat out the semi-final against Fiji, making a guest appearance on the BBC's coverage of the England V New Zealand semi.
The 30-year-old says he won't play unless 100 per cent fit and is desperate to be a part of the team that could avenge the 2008 World Cup loss to the Kiwis.
"The way it's improved over the last seven days has caught me by surprise to be honest," Slater said.
"At the start of the week I was giving myself no chance, whereas now I've done everything possible to get right for the next game and I'll do everything I can in the next seven days to be right.
"I'm going to give myself the best opportunity to get there but I'm not going to play if I don't think I can play properly.
"It's a big occasion and I'd love to be part of it but I know how important it is to this team and to our country. I'll be fit if I get there."