Tim Butcher talks to Wigan Warriors coach Shaun Wane about his team's defence of their title in 2014…
It is going to be a busy start to the year for Shaun Wane and his coaching staff.
And in some ways it will be a journey into the unknown. For the first time in the history of the game, Wane will have to prepare a team for Super League, while also getting it ready for a World Club Challenge at the other side of the world. And as part of that build-up, he will take his squad for an 11-day camp in Florida. And then there are pre-season warm-ups against Leigh, London Skolars, St Helens and Workington. And a season that kicks off against Huddersfield Giants a week before everybody else.
Not that Wane is complaining. Quite the opposite.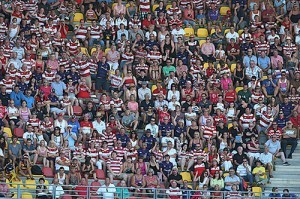 "It's going to be busy but we are looking forward to it," he said. "I'm really pleased. It might have an effect on our season very early on, but I'd much rather have this on the back of a Grand Final win. It's a massive positive for British Rugby League and for Wigan.
"It will mean it's been a short pre-season and it has been disrupted by the World Cup as well. It means the staff have to work harder to squeeze it all in. It's just the way it is. We don't moan about things and make excuses, we just get on with it. That's the way the club goes. We are always trying to improve things and the players all buy into it."
At the start of 2013, there were question marks over Wigan Warriors' ability to stick around the top teams after the exit of their halfbacks Brett Finch and Thomas Leuluai, let alone to win the Challenge Cup and Super League double, Matty Smith and Blake Green eventually providing an even better service than the two big-name stars.
Inevitably, some will raise the same doubts after the departure of Sam Tomkins, Pat Richards and Lee Mossop.
"We've lost quite a few players with a lot of experience but I am confident in the quality of the players we have brought in and with the young kids we have signed," says Wane.
"We want to promote the young kids and we want to give more of them their debuts this year, and the coaching staff here will never change their mind on that. We do not make our senior players play if they are injured. If there is a slight doubt we will put one of the kids in.
"Players like Scott Taylor and Ben Flower are both still young and playing in big games. They are now a year older, and more mature physically and mentally."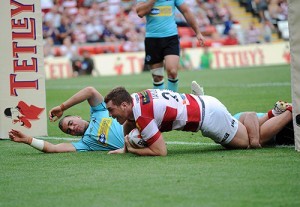 Wigan Warriors have also recruited well and look to have plenty of depth, with Wane reckoning will-o-the-wisp Matt Bowen, who will join up with the Warriors in Orlando, will be an adequate replacement for Tomkins.
"The things he has done in the NRL – he's going to be a great asset to us," says Wane. "His skills are unbelievable, and he's got a good short kicking game. He's got things that Sam struggled with. We've lost a great player in Sam (Tomkins) but I honestly believe we have got a great player in Matty Bowen, and as well as that, he's a nice guy off the field, a family man. He'll fit into our culture no doubt."
As will the London pair of Tony Clubb and Dan Sarginson. "We've not gone big on utility players in the past  but they are quality utility players. We've beat London a few times but the two standout players for them were always those two. They always caused us problems."
On USA prop Eddy Pettybourne: "He's been around in the NRL a long time and he knows the crack, he knows about the grind in big games and he's very physical, runs very hard, and he's a very nice person off the field as well, so he'll fit in perfectly. I watched him many years ago playing for South Sydney and I rated him very highly, so to finally get him is very pleasing."
Perhaps the signing of 20-year-old John Bateman has the biggest potential to excite.
"He's a quality player and we haven't seen anywhere near the best of him yet," says Wane. "He is a very talented player with a lot of potential and, as a club, we would prefer to go down that route, developing players within our culture. He's had a bad run with injuries, so we have to get him in good condition and hopefully get him skilled up as well. I'm sure we'll see the best of him then. He's fitting in really well and shows good skills and a lot of desire. I like him very much."
Wane's biggest challenge might be in motivating a group of players who achieved all they could last year, at least in terms of trophies, but there'll be no resting on laurels.
"We were happy with the two wins in the big games," says Wane, "but there were some performances where we could have improved.
"We know this season coming it is going to be a bit more intense, so people will be under a bit more pressure.
"That's the environment in the club, trying to improve on things. The team spirit is phenomenal, everybody wants to improve including the staff. It's the place to be"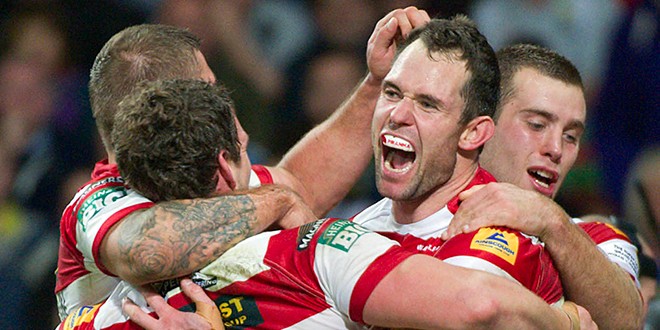 Wigan Warriors close season injury report
Jack Hughes – shoulder surgery, should be fit to resume full training on pre-season camp in Florida.
John Bateman – still in rehab from last season's ankle operation, fit to go at start of season.
New faces at Wigan Warriors
Matt Bowen
Wigan have captured one of the most exciting broken-field runners in the game in fullback Matt Bowen, and one with 270 first-grade games under his belt in a 13-year career with North Queensland Cowboys. He played for Australia once, in 2004, and made 10 appearances for Queensland in State of Origin between 2003 and 2007. His try-scoring record is excellent – scoring 130 in his club career and he topped the NRL tryscoring lists in 2005 and 2007.
Eddy Pettybourne
Wigan fans will have liked the look of prop Eddy Pettybourne playing for the USA Tomahawks in the World Cup. In fact he had three looks, sporting three different hairstyles in four matches. Good news for the local hairdressers. He saved his best performance for the quarter-final hammering by Australia in which he looked one of the few USA players up to the physical challenge. A former Australian Schoolboy rep, he's played over 100 NRL games but after six years at Souths, his move to Wests Tigers for 2013 wasn't a big hit.
Dan Sarginson
The Warriors have signed one of the best recent products of London Broncos, a Hemel Stags junior, whose shown glimpses of his talents since his debut in 2011. Steve McNamara was obviously impressed with his potential and drafted him into his England Knights squad the following year. He has the ability to fill any of the threequarter roles and this year played, with some aplomb, at stand-off in the Knights' big win over Samoa.
Tony Clubb
A true man of Kent, Clubb got fed up of the uncertainties at the Broncos and said after the 80-point humiliation by Warrington he wanted a move because he was sick of losing. A huge frame, Clubb can also be expected to develop under the Wigan system, and he showed his potential in the 2010 Four Nations when he scored four tries for England against PNG.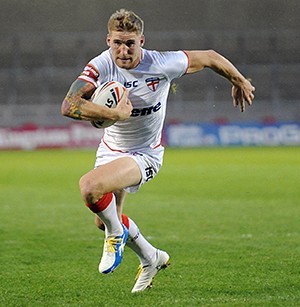 John Bateman
When Bradford won the race to sign John Bateman from local juniors Dudley Hill in 2010, they had a player tipped for the top. Strong and skilful, Bateman was expected to take time to break into first grade. But he made his debut in April the following year, at the ender age of 17, and by the time he was 18 he had established his credentials as a first-grade forward. Shoulder and ankle injuries ended his first two full seasons prematurely and we are yet to see the best of him.
Sam Hopkins
More of a long-term project, 23-year-old Hopkins was signed from neighbours Leigh Centurions and is at the beginning of his first full-time pre season. A Leigh East product, Hopkins has played mostly prop in the Championship but can also play back row. He's highly rated with great potential.
Wigan Warriors 2014 Squad
1 Matty Bowen
2 Josh Charnley
3 Darrell Goulding
4 Iain Thornley
5 Anthony Gelling
6 Blake Green
7 Matty Smith
8 Scott Taylor
9 Michael McIlorum
10 Ben Flower
11 Vacant (was Harrison Hansen)
12 Liam Farrell
13 Sean O'Loughlin
14 Jack Hughes
15 Logan Tomkins
16 Gil Dudson
17 Dom Crosby
18 Warriors Fans
19 Sam Powell
20 Greg Burke
21 Andy Powell
22 Eddy Pettybourne
23 Dan Sarginson
24 Tony Clubb
25 John Bateman
26 Ryan Hampshire
27 George Williams
28 Rhodri Lloyd
29 Sam Hopkins
30 Epalahame Lauaki
31 Dom Manfredi
32 Joe Burgess
33 James Greenwood
34 Lewis Tierney
35 Rob Lever
36 Connor Farrell
37 Ryan Sutton
38 Ben Austin
39 Jack Murphy
Wigan Warriors main shirt sponsor: Houses for Homes
Players in: John Bateman (Bradford Bulls – second-row), Matty Bowen (North Queensland – fullback), Tony Clubb (London Broncos – second-row/centre), Sam Hopkins (Leigh Centurions – prop), Eddy Pettybourne (Wests Tigers – prop), Dan Sarginson (London Broncos – centre/halfback)
Players out: Liam Carberry (Widnes Vikings), Gareth Hock (Salford Red Devils), Lee Mossop (Parramatta), Pat Richards (Wests Tigers), Tom Spencer (Leigh Centurions), Sam Tomkins (New Zealand Warriors), Harrison Hansen (Salford). On loan: Chris Taylor (Whitehaven).
Wigan Warriors' top Opta performers in 2013
Sam Tomkins     18629
Mike McIlorum     11159
Josh Charnley     10484
Liam Farrell     10339
Sean O'Loughlin   9739
For full details of Wigan Warriors' 2013 season see the League Express Rugby League Yearbook 2013-2014